Last Updated on Sept 10 2021 by Drew Mann
Welcome to my eCom Elites Review of Franklin Hatchett's dropshipping course for 2021. I'm a real member and I bought the course (and many others) so because of this I can give you first hand experience if this course is good or not.
I spent 30+ hours dissecting this course with the help of a lot of coffee!
Look, if you end up buying the wrong course – you might never be able to succeed with ecommerce & dropshipping. You might be promoting the wrong products, making huge mistakes with your Facebook ads and even cost yourself a lot of money.
But don't worry… I am going to help you avoid those mistakes and you'll see how.
Let's jump right into my review!
Disclosure: Drew's Review is supported by my readers. A purchase from a link may earn an affiliate commission at no extra cost for you. Learn more
What is eCom Elites?
eCom Elites is an ecommerce course taught by Franklin Hatchett.
It teaches you how to start, grow and scale your own dropshipping store using Shopify. If you want to make money online but don't know how, eCom is great to get into, especially now.
The modules cover many different topics such as:
sourcing products (eliminate the guesswork and find ones that convert)
finding suppliers (and how to avoid the bad ones for less headaches)
how to create Facebook and Google ads (proper targeting and how to avoid spending money you don't have to)
email marketing (learn how to capture new and existing customers)
social media marketing (learn how this will bring you even more customers and strengthen your brand)
search engine optimization (get your site on Google and make more sales without having to pay for ads)
The training is done in video format. There are over 200 videos, 9 modules and a bonus module.
I'll be covering everything you need to know about this course in this review.
You'll see screenshots from inside the training course and a video walkthrough if you prefer to watch instead.
Is eCom Elites a Scam?
No, eCom Elites is NOT a scam.
Scams don't come with money back guarantees and the course is fully protected with a 30 day refund policy.
You also get exactly what you paid for. The training is legit because it follows a set of instructions from setting up your ecommerce store to becoming a profitable online business.
It's up to you to ensure your Shopify store is a success though. eCom Elites will show you the way but you need to be dedicated until you see success.
Who is Franklin Hatchett?
Franklin Hatchett is an entrepreneur from New Zealand that you may likely have seen on Youtube. He provides a lot of free income generating tips on his channel. His experience came from his early start with his own dropshipping stores and being an affiliate marketer.
Franklin created eCom Elites and other courses in affiliate marketing and has many successful students as a result of his training.
How Much Does eCom Elites Cost?
The Ecom Elites course has two different prices depending which option you choose. You can buy either the "standard" package for $197 or "Ultimate" for $297.
Either option is just a one time fee with no monthly cost. The normal price for either option is $497 & $697
You're also protected with a 30 day money back guarantee. You can buy eCom Elites with either Apple Pay, Credit Card or Paypal
The Standard online course covers eveything from intense product research, Facebook Ads, Instagram Ads and email marketing.
You also get Google SEO training, Chatbot training and weekly Q&A sessions.
Access to the private Facebook Group and lifetime updates to the course is also included.
The Ultimate package includes everything above plus the all new Sales Funnel Academy, Google Shopping Ads Academy, "done-for-you" 7 figure sales funnels,
Also, two of Franklin's books on his top selling 6-figure products and his top selling niches of all time.
For all this, it's just $100 more at $297.
I only recommend this option if you're an intermediate dropshipper or if you just "want it all."
What Can You Expect if You Buy the eCom Elites Course?
My review will include these additional modules so you know what you are getting if you opt for eCom Elites Ultimate.
The first thing you will notice is how the training is laid out. It's all in video format and the platform it's hosted on is Kajabi. Kajabi has a good reputation for serving your content and I have not seen any issues so far with the videos playing.
As for the training, there is no supplementary text for each video lesson so you will be required to take a lot of notes. It's easy to get lost because of the amount of videos in this course, but they are laid out well and easy to go back to.
The training is fluff-free as Franklin's style is straight to the point. He doesn't dilly dally or get side tracked with unrelated things.
You can expect the training to be clear, concise and well formatted. Each module builds on the previous one.
Dropshipping VS Other Business Models
I'm sure you've seen it.
Other "reviewers" trying to steer you away from starting a dropshipping business (which has made a lot of people rich by the way) into something totally different.
One of these "opportunites" wildly promoted is Lead Generation.
There's nothing wrong with Lead Gen. In fact I have done it myself. However, you're comparing apples to oranges here. This is a completely different business segment where you are going to have to deal with business owners.
You will have to do cold calling, deal with rejection, and on top of that, hope that you can rank a website on the first page of Google, and more specifically, the "snack pack." (that's the boxed results you see at the top for local businesses).
Not to mention these courses will set you back $5000 – $8000 dollars to join compared to eCom Elites which is a fraction less.
If making money online by owning your own store and not having to deal with people face to face, cold calling, rejection and taking out a second mortgage works for you – then stick with the dropshipping business model. It's why you're here afterall! And… it works!
Training Updates
I bought eCom Elites a few years ago and it has changed quite a bit since.
If you saw my original Youtube Video walkthrough you'd see how it has a blue backround then it changed to orange and current day it's quite different. This tells me one thing – Franklin want to provide you with the best training possible.
Sure, he doesn't have to update the content, but he does because he knows that the market and strategies change. What works today may not necessarily work tomorrow.
I bought the course and i've seen it updated many times. If you read otherwise it's fake news!
eCom Elites Course: Module Breakdown
This is where we will get into the course content.
Below is a screen shot of the first video in the introduction module. This module has 3 short videos welcoming you to the course, outlining expection and showing you some real results of Franklin's members.
Apparently one of Franklin's students has generated a million dollars using his teachings. One of his top students does 8K a day, others 3K a day, another doing 80K a month and more.
The proof did look legit too.
Module 1: Setting up Your Store
In this module, Franklin gives you clear instructions with over the shoulder store setup training. He makes it really easy for all levels of understanding no matter if you've set up a website before or not.
This newly revised training also goes into detail about niche and general type stores and which one you should choose. He tells you how to set it up your store correctly and how to install a Shopify theme.
Franklin's own premium Shopify theme – eCom Turbo is mentioned throughout his course material which is obviously a plug – but it's a decent theme.
You will learn how to add products to your store, how to do customizations, shipping rates, upsells, special offers and promotions. He even teaches you how to set up taxes when needed.
Coupons are discussed and how you can use them to maximize conversions.
If you are based outside of the US, not to worry because Franklin shows you what to do – not many drop shipping courses go into this detail, they kinda leave it alone for you to figure out. So yes, you can dropship if you're not US based.
Funnels are huge these days and very necessary if you want to survive in the eCom business. In this section Franklin also teaches you how to set up Shopify store funnels which is going to give you an edge over your competition.
Module 2: Sourcing Products & Research
Here Franklin Hatchett goes into great detail on how to source products for your store. This is just one area where the course excels in because one of the top questions newbie dropshippers have is:.
"what products should I put on my store?" You'll know exactly what to put on your store after this module.
Here Franklin helps you with:
product and niche selection
product sales volume
how to get inspired with ideas
how to find the right suppliers and build relationships
Videos also include print-on-demand, niche research software and more.
Module 3: Facebook Traffic
This is the largest and probably the most intense section of the course. This is where you will earn your money with your ad campaigns if you follow his teachings on how to properly set up your Facebook ads.
Going at it alone could cost you a lot of money, that's why I think this section alone is worth the price tag of his course.
He teaches everything you need to know about Facebook marketing such as:
setting up your Facebook business account
data mining (this is where you get usable data to help you sell products)
bidding (how to bid and to ensure you don't go over budget)
conversions (how to optimize your ads for the best conversions)
creation of different ad types (this includes video, photo, slideshow, carousel, canvas and dynamic product ads)
Facebook Pixel (how to set up and maximize for better conversions)
and more – too much to list!
This Facebook Traffic module is continuously updated so you always have the latest strategies. If there's any single update an ecom course should do it's with Facebook ads so good to see it gets updated.
Module 4: Instagram Traffic Training
If you know anything about Instagram you'll know that just a single influencer can make you a lot of money. Franklin teaches you how to find the right influencer for your business and also helps you to avoid over-paying. He also goes into detail on how to set up your Instagram account properly.
This module in eCom Elites is not as intense as the Facebook ads module and rightly so, as it's not nearly as complicated. It's detailed enough to give you all the training you need to master Instagram.
This includes:
Instagram retargeting (retarget users that have visited your site to get more sales)
finding influencers (get popular influencers in your niche to promote your product)
how to run Instagram adverts and more (learn how to do this without breaking the bank!)
Currently there are 9 videos in this module. I was pretty impressed with the knowldege bombs dropped here. You'll walk away from this module being a pro at instagram marketing – selling more products!
Module 5: Email Marketing Blueprint
The Email Marketing module has 14 videos all going into great detail. He even throws in a couple bonus videos discussing the use of coupons and how to win customers back and retain them as life long customers.
Here he shows you how to set up your email campaign using GetResponse and how also with MailChimp. He shows his unique way to set up your autresponder to maximize your success.
Don't ignore setting up an email campaign. Email marketing can increase your income by 20% or more if done properly. Franklin does an excellent job explaining how to do it right.
There's a lot of videos in this section including sending out newsletters, warming up leads, how to get better open rates, installing a Contact Flow pixel and more.
When you're done this module email marketing will be clear to you and no longer confusing. Use it to increase your sales by 10-20% or more – with minimal effort.
Here, Frank Hatchett explains how email marketing will increase your profits.
Module 6: Chatbot Profits
Included in the standard and ultimate version eCom Elites is the new chat bot section. I'm glad Franklin included this because Chat Bots have really taken off. It's a great way to get leads and to increase engagement with your store.
The videos in this section teaches you everything you need to know about what they are and how to set them up. Things like sending ads via chat boxes, virtual answers to your customer questions, alert boxes, chat flows – all are taught.
It's cool stuff and you'd be leaving money on the table if you don't incorporate it. It seems complicated but it's not. You're taught step by step and anyone can do it.
Module 7: Building Sales Funnels
For those that buy the Ultimate package is a module that includes setting up a sales funnel. Frank says this is something you should be using nowadays but as a newbie, it's something you can wait to do a little down the road after you start getting sales. He shows you how to do this using Clickfunnels.
There are other options besides clickfunnels as it is a bit expensive. However, once you get going you will see the value of this module and Franklin shows you how to maximize profits using this software.
Module 8: Google Ads
This module is for Ultimate Subscribers only.
Here you'll learn how to set up Google Ads, including the Google Pixel, how to work the platform, setting up retargeting, creating text ads, creating and audience and more. He also discusses the pros and cons of using Google Ads to Facebook.
In the Google Shopping section, you'll learn:
how to start your merchant account
connect the Google Shopping App to your store
learn how to do proper keyword research for Google Shopping Ads
setting up your advertisements
how to properly do keyword research
how to properly layout and structure your ads.
You'll also learn how to get your ads seen under other people's Youtube videos.
This tactic alone is so powerful because you can target other videos based on keywords so that people will see your ad directly under the video of the same topic.
For what Franklin is charging for this course, the extra value the ultimate option provides is MORE than worth it.
Module 9: Organic Google Traffic (SEO)
You'll learn to get free traffic from SEO in both the Standard and Ultimate options of his course.
Most ecom courses will focus on paid ads before organic traffic. Franklin does go into SEO and tells you where to get links. The source he mentions is good as i've used them before as well but you need to know what you are doing, especially if you just built your site.
If your site is aged and has links to it already, then yes i'd suggest using his strategy. However, if it's a new site, i'd ignore getting those links too early, build up your socials and web 2.0's first using branded links only.
You can always contact me if you need some SEO advice.
Once your page has authority, then the links he suggests can be used. This is all up to you though and your level of knowledge with SEO. If you're experienced then you'll know what to do, but if you're not and you have a new site, i'd suggest doing what I mentioned above first.
Paid ads are great to start with. This is because if you find a successful campaign, you can then focus your SEO on the keywords around that product or niche.
Franklin is an Ads guy and to be honest this is where your focus should be. You are going to learn a LOT which will help accelerate your business rather than failing on your own.
Bonus Content Module: Increase Sales & Top Secret Videos
Getting an edge over other marketers in your space is always a great thing. Here Franklin drops videos on things like
coupon tricks
using review sites for leverage
Facebook Ninja spying
warranties to crush it
profitable Youtube tactics
I found this module in eCom Elites beneficial because I wasn't aware of some of these strategies.
They are great to add to your arsenal of "tricks."
Franklin keeps you updated with anything important in the Ecom world.
Things like:
using the insights tool for the best targeting possible
discover new manual bidding methods to get an edge over competition
Affinity, the secret sauce of getting email profits and more.
What I can really appreciate here is that a lot of courses will get outdated after a year or so but Franklin keeps you in the loop.
From my understanding at looking at this module it will be updated with important info as he gets it. A lot of courses never do updates – this is one of the reasons I respect Franklin a lot. You don't need to buy the course again once it is updated. He doesn't screw you over like other course creators whenever an update is made.
Updates are free – for life!
Q&A Module – Live Q&A Videos
Here you will find the live Q&A's that are posted. If you miss them, you can always come back to this section.
I really enjoyed his motivational speech video. If you ever lose focus, come back to this one – trust me!
Facebook Group
With your purchase of Frank's eCom Elites course, you get access to the private Facebook Mastermind group. There's a lot of members in this very active group and it's a positive atmosphere with likeminded individuals like yourself.
If you ever feel stuck or have a concern, you'll get your question answered. Although my advice to you is just follow the training and never deviate from it.
The Facebook group is a good resource to confirm anything that you might be unsure of and also a place for inspiration from many of Hatchett's students.
Pros and Cons
Pros
Very reasonable price
Free updates included
Compares to higher priced dropship courses
No fluff or BS – just pure training
Includes free traffic methods
Suitable for beginners
Trained by Franklin Hatchett, not some "fly by night" guru
Learn more than one paid traffic method (most courses only teach FB ads)
Proven course with positive results & success stories
Cons
Doesn't include supplementary text with videos
SEO section is a little light
Why I like eCom Elites
There many dropshipping courses out there but there are 3 main reasons why I think eCom Elites is the best dropshipping course.
1. Price
With the cost for the higher priced Ultimate package just under $300, it's a bargain compared to higher priced courses than can cost you up to $5000 for something similar.
2. Money Back Guarantee
If for some reason before 30 days is up and you just aren't having any luck, simply send an email to the support team and ask for a refund. eCom Elites has very low refund rates because the content is that good. It's likely you wont need a refund but the option is there for your protection.
3. Quality of Content
The main strong point of the course is the quality of content. Not only is there an abundance of it (over 200 videos) but the training is high quality. There's many references to other information outside of the course, actual examples, case studies, and Frank's ability to get the message across in a clear manner.
eCom Elites Success Stories
There are many success stories from people that have taken the course.
I think part of the success of eCom Elites comes from knowing that many students have had success with it.
Here's a few:
Brian's Success Story:
Here Brian sent Franklin a private message that he was doing 10K per month following Franklin's teaching. This happened after joining eCom Elites in just 3 months!
Andrew's Success Story: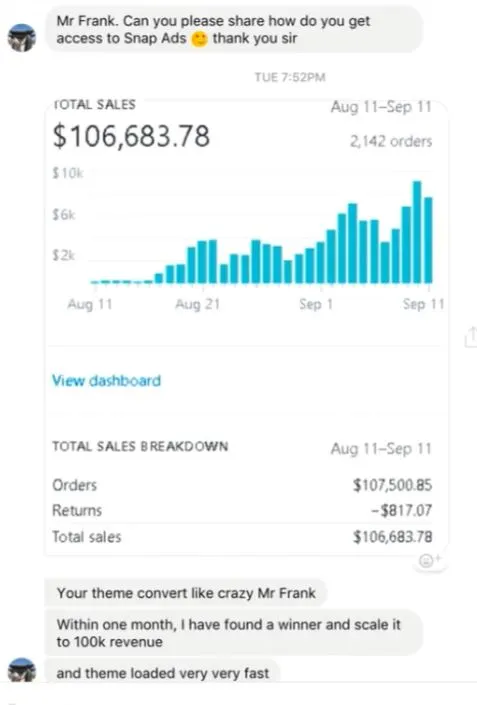 Andrew, one of Franklin's students, sent the above screenshot to him. He made $106,683.78 in just one month with his Shopify store. In this case, the bulk of that money came from just one winner. This goes to show how important it is to find winning products and Franklin's training will show you how to do that.
Charlie's Success Story:
Charlie posted his first week in sales which was $1,093.24. Not bad for someone new to the dropshipping game.
Alternatives to eCom Elites
Yes, there are alternatives to eCom Elites if you can believe it. However, the online courses that have similar content do cost considerably more.
eCom Success Academy by Adrian Morrison is a good alternative, however that course will cost you $2495. The core training of eCom Success Academy compared to eCom Elites is very good, however it does not have training in SEO, Instagram or funnels. WIth eCom Elites you're actually getting more.
Dropship Lifestyle is also a good alternative and costs $3000 or $5000 depending which option you choose. Besides price, DSL focuses more on high ticket items but it compares to eCom Elites in the sense that it's legit and scam free.
eCom Elites Discount
You won't find coupon codes anywhere because they don't exist. The course is very well priced to begin with which is normally $300 more for either version.
There's no spot for a coupon code on checkout either and you can check for yourself here. Just head on over to checkout after selecting either Standard or Ultimate.
Frequently Asked Questions
Is eCom Elites Legit?
Yes. Ecom Elites is a legit course.
Franklin Hatchett was one of the first on Youtube to talk about dropshipping because he actually does this stuff. His course was created as a direct result from the success he has achieved with his stores. It gets frequently updated and he's got many successful students.
Who is eCom Elites for?
eCom Elites is best suited for those that are beginners looking to start an ecommerce business.
If you already have a store or you're at an intermediate level, the course also has a lot of information that can also accelerate your learning curve and help you scale.
Is this the best ecommerce/dropshipping course online?
This online course is packed with excellent training so the answer is yes. Many other courses only have half the content but cost 2, 3 or more times much more.There is over 200 videos of instruction and updates to the course are frequent.
You'll have these updates for life and access to the Facebook group should you ever get stuck or have any questions.
Where can i buy eCom Elites?
Read my review first before you pull the trigger. I want you to be sure that it is for you. I am confident that you will see this the best course you can get for your money and when you're ready, you can grab it here.
Is eCom Elites worth the money?
Yes, Ecom Elites is worth the money. There is a lot of value for your money because of the amount and quality of training included. Other courses charge a premium for similar training.
You get lifetime updates so you never have to buy another version of the course when it gets updated.
Video Walkthrough of the Course
Here is a video demo of inside the course. Since this video has been made it has been updated again and has a different look but is still consistent with what is in this review.
Final Thoughts
It gets a passing grade from me. In Summary, eCom Elites is the best course to help you achieve success with your dropshipping business. It's all you need really. And it's so inexpensive!
It's perfect for beginners and provides training in easy to follow format. It's also going to help those that have a store already due to the advanced strategies taught.
It covers everything you need to get started to get a profitable store up and running from start to finish.
Take action by giving the red button below a tickle! Or at least check it out.
Comment below or just contact me below if you have any questions.
Share on your favorite social media site!
Franklin Hatchett's eCom Elites Review

Latest posts by Drew Mann
(see all)