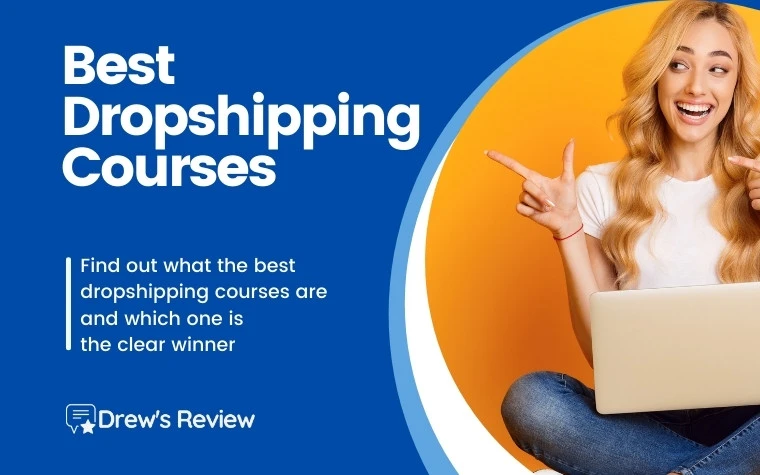 Welcome to my best dropshipping course review for 2022. The market size of Dropshipping globally was valued at 102.2 billion USD in 2018 and is expected to reach a compounded annual growth rate of 28.8% from 2019 through to 2025.
Do you want to start your own dropshipping business but don't know how? You should never start an online store without a good quality, up-to-date course to push you in the right direction.
To make this easy, I have listed 5 of the best dropshipping courses that will give you the best chance to start your online business. There are many courses to choose from, but so many are a waste of time and money. That's why I want to make sure you get the best bang for your buck.
Why trust my review?
I run my own dropshipping store so I know what works and what doesn't
I've bought many of the popular dropship training courses myself
I don't recommend a course that clearly isn't worth it
I've had many people thanking me for their success through my reviews
In this review I have ranked and reviewed the best dropshipping courses based on:
Reputation/experience of the instructor
Student results
Course content
Support
I'll also rank them based on features. price list pros and cons and more.
Let's dive right in!
Disclosure: Drew's Review is supported by my readers. Some of the links below may earn me an affiliate commission at no extra cost for you. However, I believe these are the best courses you can get to launch your ecommerce business. Learn more
What is the Best Dropshipping Course?
All dropshipping courses are not created alike. Before you buy any course, it's important to understand the type of dropshipping business you'd like to do first. For example, some focus on high ticket dropshipping while others focus mainly on inexpensive novelty type items.
Since Shopify is the best platform for dropshipping, the courses below all focus on using that as the platform of choice.
Having said that, here are my picks for the best dropshipping courses of 2022.
Best Dropshipping Course for Beginners on a Budget. $197-$297 One Time Fee
Ecom Elites is best designed for beginners. You'll learn how to create your own Shopify dropshipping business from scratch without any prior experience or knowledge of how to build a website.
The focus is on low-cost items where you are taught how to source products from hundreds of different dropship suppliers.
eCom Elites was created by Youtuber Franklin Hatchett. He's one of the first guys to introduce dropshipping on Youtube and has launched many successful Shopify dropshipping stores himself.
The course has over 200 videos of easy to undertand training. There are two levels to choose from – the Standard version and the Ultimate version.
eCom Elites Standard
The standard version of eCom Elites includes full training on how to set up a website on Shopify. You don't need to know any code or html. You will have traffic training in not just Facebook advertising but Instagram as well. You will also learn how to set up an email marketing campaign.
Also taught is how to rank your online store on Google via SEO which is very rarely taught with other dorpshipping courses. On top of this, you will learn how to set up a chatbot on your store to automate a lot of your customer inquires for you.
eCom Elites Ultimate
The Ultimate version of eCom Elites includes everything above in the standard version. However, the extras include a module on how to set up Sales Funnels where you even get a done-for-you funnel that you can replicate to make your own. Franklin claims to have made 7-figures with this funnel that you can use in your own ecommerce business. You will also learn how to set up Google Shopping ads,
Both versions come with weekly Q&A training sessions, a private facebook Group and free updates.
So which one do you choose?
You can do perfectly fine with the Standard version but if you really want to up your game i'd suggest going with Ultimate. Online stores compete with each other in great lengths, so wouldn't you want all the strategies at your disposal to succeed? That's how I see it.
eCom Elites Pricing
eCom Elites Standard ($197): One time fee
eCom Elites Ultimate ($297): One time fee
With either purchase you are protected by a 30-day refund guarantee.
Pros:
Plenty of student success stories

Regularly updated

Inexpensive – one time payment & no monthly fees

30 day money back guarantee

Support included & active Facebook community

Lot's of different methods to get traffic to your store, not just one or two like with other programs

Created by well-respected internet marketer and dropshipper Franklin Hatchett (he does this stuff, not just teaches)
Cons:
Video format only, no supplementary text
SEO module could be a little more extensive
Of all the dropshipping courses I have bought and reviewed, eCom Elites is the clear winner in this list.
This is because it's inexpensive, has a reputable coach (Franklin Hatchett), has detailed training videos and fully prepares you to start and scale your own dropshipping store.
I bought the course myself a few years ago and since then it has gone through quite a few updates. You get updates for free and do not have to pay for the next version.
There are many student success stories from student making a few thousand to 100K a month from Franklin's teaching. Of course individual results will vary but this just proves his methods work. You can see more testimonials and also a more detailed look of the course in my eCom Elites review.
Salehoo Dropship comes from the folks at Salehoo who specialize in matching up dropshippers with suppliers.
The course is taught by Sarah Li, who has produced several 7-figure dropshipping stores. Salehoo Dropshipping on Shopify is part of their "Salehoo Educate" offering. If you buy the course, you don't get access to the Salehoo Directory or Salehoo Dropship. These are separate products.
💰 Price: $47 (one-time fee)
💻 Course Length: 21 Hours
⚙️ Total Modules: 7
💰 Money-Back Guarantee: Yes
This is one of the cheapest dropshipping courses out there that's actually decent. I've seen dropshipping courses this cheap that are pretty bad and taught by unknowns just looking to make a buck.
Since this course is taught by someone that has been very successful with dropshipping, it's going to give you an advantage.
It's perfect for beginners with little fluff and straight-to-the-point training. You could apply it to other ecommerce platforms, but it's geared towards Shopify users.
Pros:
It's cheap! Only $47
Includes not only Facebook training but Google ads and influencer training
Includes trending product ideas and niches to use
Great for beginnners
Taught by 7-figure store owner and backed by Salehoo
Cons:
No SEO training
No Email marketing training
If you're new to dropshipping, this is an excellent entry-level course. It's risk free to join because it comes with Salehoo's money back, no questions asked guarantee. Salehoo has a lot of interest in seeing that you succeed with this course.
Their goal is to get you to also subscribe to their Salehoo Dropship! product as well, so you know they are going to put out a good course.
The Sell The Trend Dropship Course is actually free. Well, sorta. You get it free with your subscription to Sell The Trend which costs $39.97 a month.
Sell The Trend is a tool that helps you find winning products for your dropshipping store. They included the course for free because your success depends on their success. The idea is that if you have a successful store, you'll keep your monthly subscription to keep finding winning product after winning product.
💰 Price: $0 (Free with your STT subscription)
💻 Course Length: 21 Hours
⚙️ Total Modules: 10
💰 Money-Back Guarantee: N/A
There are 10 modules in this course. Topics include setting up your store on Shopify, finding and adding products, Facebook and Influencer marketing, FB ads creation, recommended apps and more.
Pros:
Free with your Sell The Trend Subscription
Great for beginners
Includes Facebook and Influencer marketing
Mindset training is very motivational
You can get a free trial to check out the course first
Cons:
Facebook training is pretty basic but good enough
Training with products from AliExpress only
With this free course, new dropshippers will experience a win-win. This is because they get free training and access to the Sell The Trend tool. For more information on the tool, do check out my separate Sell The Trend review.
Best Dropshipping Course for Those Wanting to Scale an Existing Store (not for beginners) $297
If you have an ecom store already or at least know how to set it up properly without needing a course to walk you through all that stuff, Product Winner Blueprint could be for you.
It was created by Tristan Broughton who is a Youtuber and also owns his own dropshipping business. Its core focus is finding a winning product and then to scale it for even more sales. It's a great course with some new methods I haven't seen and really drills down product finding and converting. It has 10 modules and training is done in video format.
This course differs from eCom Elites because it will not teach you how to set up a store. It's understood that you already have an active store and want to focus more on scaling new or existing product sales. So if you are new, eCom Elites is the better fit.
The focus is entirely on Facebook ads and email marketing. So if you want to up your game with either of these, this course is a good option for you.
He has also created his new Google Ads eCom Academy that you can bundle with Product Winner Blueprint for $497 or buy separately at $297. It's a no brainer to get the bundle package if you are serious about scaling your store.
Remember that this course requires that you have a store setup already. It's not for beginners.
Product Winner Blueprint Pricing
PWB will cost you a flat fee of $297. There are no monthly fees. It is backed with a 7-day money back guarantee. There is also an option to bundle his "Google Ads Ecom Academy" course together for $497.
Google Ads Ecom Academy is a separate course that teaches you how to run Google Ads for your drosphipping store. If you only want to focus on scaling with Facebook ads, you won't need the bundle.
Pros:
Taught by experienced dropshipper Tristan Broughton
Helps you find winning products to scale
Can help you scale your existing winning products further
Cons:
Not meant for beginner dropshippers
Will need to buy his separate course to learn Google Ads
Only Facebook ads taught for traffic methods
There are many success stories from his students, ranging from 23K to 156,000 Euro per month. Just like with any course, results will vary. However this just shows that Tristan's methods, when followed to a T – do work.
So why did I include this course if it's not for beginners? Some people may have a store already and are just looking for more help to scale it higher. Product Winner Blueprint can help with that through the advanced methods in testing, retargeting, ad setups and creatives, email marketing and average order value.
To learn more, check out my Product WInner Blueprint Review
Dropshipping Course taught by Adrian Morrison – Suitable for beginners but very pricey: $2495
I rate the eCom Success Academy 3rd simply because it's more on the expensive side. Don't get me wrong, it's a great dropshipping course but you get more value-for-your-money with eCom Elites.
The eCom Success Academy is also suitable for beginners like eCom Elites. It will show you how to build a drop shipping store on Shopify, teach you how to find products, teach you how to do Facebook ads, Google Shopping, and email marketing.
It does fall short in some aspects when comparing it to eCom Elites because it does not teach Instagram strategies or SEO. However, there's a TON of content and the last time I logged in it was around 200 videos.
It is taught by Adrian Morrison – a big name in the eCom world. I'm sure you have seen the many Facebook ads 😉
What I like About the Ecom Success Academy
Includes his "Sizzle Product Sniper Software" which I used myself but there's other ways you can do the same thing without this software.
You also get weekly training with his "Profit Power Hour Webinars". This is closed off and available to students only.
Updates are frequent. For 2022, there are updates in the course on Aliexpress Secrets, a new viral product hunt, an "Etsy Sneak Attack". custom jewelry, and more. In total I have counted 19 updates.
It teaches you project management using tools like Slack and Asana so when your ecommerce website starts growing you'll know exactly how to manage your team and business.
It provides case studies of actual products that Adrian made 5 & 6 figures on.
Exit Plan. If you decide to sell your store for a huge profit, Adrian will show you how to get the most money for your online store.
Outsourcing. When your business grows he shares with you his key strategies on how to get help with places like onlinejobs.ph, 123employee.om, Upwork and more.
What I Don't Like
Honestly – this is an easy one. It's the price. I think it's wayyyyy too expensive and it did hurt a bit when I clicked the "submit payment" button when I bought it a few years ago.
It also looks like the "Art Licensing" has been removed as I don't see it anymore. This was a cool feature where you could get licensed art for very cheap to use in your designs.
Ecom Success Academy Pricing
One time fee of $2495. There are NO refunds so please be aware of this.
Verdict: ESA is great for beginners and packs a ton of information. My only beef is the high price tag. The support is good and from what I have seen there's been quite a few success stories from students that bought the course.
I bought this course several years ago and I still get all the updates so it is a benefit that it stays current. My Ecom Success Academy Review page goes into more detail so feel free to check it out.
Best Course for High-Ticket Dropshipping. ($2997 – 4997)
Dropship Lifestyle focuses on "Evergreen" products from known manufacturers. They do not teach you to source "trending" products. Typically this is more "high-ticket" dropshipping.
I was hesitant to include Dropship Lifestyle in my recommendations but felt it was necessary because not all people are interested to drop ship "trending" or inexpensive novelty items. However it is important that you understand the downside with high-ticket dropshipping before you decide to get this course.
This can be an advantage, but at the same time the competition is fierce. You'll be up against big names competing for the same products.
However, Dropship Lifestyle has a more "hands on" approach where they will help you choose a niche and tell you if it will be successful.
What's Included
The course has 8 modules and a bonus module. As there are two packages to choose from, some listed here may not be included in the basic option.
Niche Selection: Learn about pricing, target market, brand loyalty, passion vs profit, etc.
Market Reseach: Market demand, dropship friendly niches, etc.

Website Creation:

Shopify store setup with customizations, pages, blog posts etc.

Dropshipping Suppliers: How to find them and get approved.

Conversion Optimization:

Getting

reviews, dealing with abondoned cart, connecting Google Analytics, etc.

Traffic Acquisition: Tips on SEO with BING, funnels, paid traffic & influencers

Outsourcing & Automation:

How to automate your business and find freelancers
Key Benefits of Dropship Lifestyle
Drop Ship Lifestyle® Theme supplied to build your store – no guessing on setup

You choose a niche – Dropship Lifetyle will provide feedback if it's a winner or not

With their scripts, you can become an Authorized Retailer for big brands

They claim to have "proven" traffic system to get eyeballs on your store
Pricing
Basic subscription – $2997.

Get access to all the training modules, private apps and DSL's dropshipping software.

Ultimate package – $4997. Get an "almost" done for you store where you'll have more hands on training, including private calls with Anton Kraly. This option is for those that prefer Dropship Lifestyle do the heavy lifting for them but it also comes at a much higher price.
Refund Policy
You can get a refund but there's a catch. Not only do you need to complete the course within 30 days, but you need to choose a niche, find at least 20 suppliers and finally, build your website.
In other words, this is a performance based refund policy. You can't get a refund just by sitting back and letting the videos play. You have to take action. If you ask me, it's possible but it's going to be difficult to complete the training and build a fully fledged ecommerce business in 30 days. If you have the time sure, but those that have a full-time job – it's gonna be difficult.
But don't take my word for it, here's their official positioning directly from their website:
Pros:
Detailed and in-depth training
Departs from traditional low-ticket dropshipping
Includes more than just Facebook ads for traffic generation.
Cons:
Substantial capital investment requered: Big investment upfront followed by other business expenses before seeing any sales
High-ticket dropshipping comes with risks. Be sure to check out my article on this.
Refund policy comes with restrictions
Dropship Lifestyle is very different from other courses here. You won't be sourcing products from places like AliExpress, Alibaba or similar marketplaces. Instead you will be dealing with items that are higher priced.
If you are interested in this type of drop shipping business dealing with expensive items, you should be aware of the risks involved. For example if a customer wants a refund and the item sold was worth $2000, you are responsible for refunding it. You need to keep a substantial amount of capital in your business to account for issues like these.
However, it's the best course for high ticket dropshipping so if you're aware of the risks you could do well wih this business model. If you'd rather focus on low-ticket dropshipping, go for eCom Elites instead.
My Dropship Lifestyle Review will go into more details of this course to see if it's for you.
Taught by Arie Scherson and billed at $29 a month. Focus is Facebook Ads Only.
Netsphere is a dropshipping course by Arie Scherson. This 20 hours of training shows you how to find winning products, launch and scale Facebook ads and work with influencers. It is suitable for beginners and reasonably priced. Netsphere promises to help you build and scale a Shopify store with the dropshipping model. It focuses on low-ticket items.
Arie's previous course, eCom Inner Circle no longer exists. The homepage is up but if you try to buy it the link is dead. Netsphere appears to be the evolution of his old course.
Netsphere is well structured but in the world of dropshipping doesn't really reveal any groundbreaking strategies that you may already know if you bought another course.
If you only want to focus on Facebook ads, then you might want to consider this course because as for traffic, that's really it. You will get some traffic from influencers as well though because that's another thing Arie teaches.
If you are a huge fan of Arie and like what you have seen on his Youtube channel, then perhaps this could be an option for you.
Netsphere Pricing
There are three pricing options for Netsphere:
$29 per month
$59 quarterly

$99 every 6 months
While these pricing plans seem great for those on a budget, it does add up after a while. For example with the monthly plan the course will cost you $348 each year.
You can cancel anytime and you're not locked into a pricing plan.
What's Included
How to set up your Shopify store
How to find products and dropshipping suppliers
How to find influencers to promote your products
Facebook Ads – how to set up, test, segment audiences and dynamic product ads.
How to automate your Shopify dropshipping business
Pros
It's affordable as an initial investment. Arie Scherson has been doing this for a few years so does have enough experience to teach his methods.
Cons
Doesn't go beyond Facebook ads training. No Instagram, SEO or funnel training that you find in eCom Elites. I'm not a fan of monthly subscriptions. It's best to get the cost of the course out of the way if you ask me as you'll have other expenses to consider each month such as Facebook marketing costs, Shopify fees, apps, etc.
Final Thoughts. If you are a huge fan of Arie and like what you have seen on his Youtube channel, then perhaps Netsphere could be an option for you. It's easy to digest as it's great for beginners that only want to market with Facebook. The training provides you with simple, repeatable strategies what won't overwhem you much.
If you want to learn more, head on over to my Netsphere review.
---
What is Dropshipping?
Below is a quick guide for those unfamiliar with this making money online opportunity.
Dropshipping is where you can run on online store without storing any products yourself.
When someone makes a purchase on your website, you simply order the product from the supplier. The supplier will then ship it to your customer on your behalf.
Typically you will markup products anywhere from 500% and beyond. This seems outrageous, but it's very easy to find a product that sells for $2 which you can easily sell for $20. This is how you make money with dropshipping.
The above applies for low-ticket dropshipping. With high-ticket, the markup will be much less because the items cost an average of these items is around $1000.
Is Dropshipping Profitable in 2022?
To discuss this let's look to the facts.
Yes, Dropshipping is still profitable in 2022 and beyond.
In the beginning of this article I mentioned some facts that dropshipping has a market value of over 102 Billion annually and growing. It does NOT appear to be slowing down. So the answer to this question is yes, it's still profitable and worth it.
However, the game has changed. People are much more savvy now so you'll need to focus on building your brand and trust. You can no longer just throw up a store and expect immediate results. You will need to gain the confidence of your consumer. You achieve this by doing it right. That's why education is so important and committing yourself to one of these best dropshipping courses.
Conclusion
So there you have it. My top 5 choices on the best dropshipping course for 2022.
There was a lot to unpack here but I have laid out my recommendations to help you start a successful dropshipping business.
The course that ultimately wins is eCom Elites because it's reasonably priced, has no monthly fees, you get updates for free and it's a proven course with many successful students.
If you're on the fence and want to learn more, do check out my eCom Elites review where I go into much more details and benefits.
---
Share with your friends or someone that could benefit from this post!

Latest posts by Drew Mann
(see all)