Welcome to my review for the 9 best affiliate marketing courses online for 2022.
Anyone can do affiliate marketing but it's the ones that get the best training and execute on that training that get results.
Are you overwhelmed by the number of courses available and not sure which one is right for you?
I have bought 42 affiliate marketing courses over the past 10 years and some have been great while others just pure cash grabs.
This list includes my picks for the best affiliate marketing course based on price, reputation, student results, instruction quality, and support.
Let's jump right in.
Disclosure: Drew's Review is supported by my readers. A purchase from a link may earn an affiliate commission at no extra cost for you. Learn more
What is the Best Affiliate Marketing Course?
Here are my picks for the best affiliate marketing course:
Best affiliate marketing course for beginners that includes SEO, free & paid advertising, email marketing & funnel building. ($197 – $297).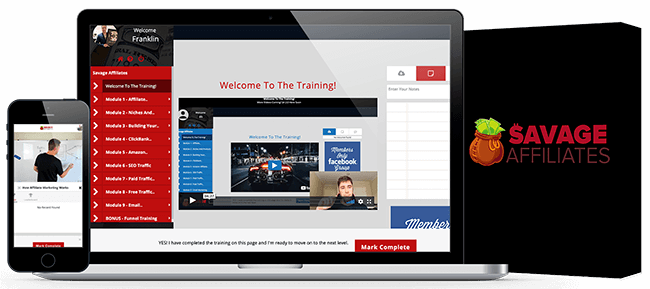 Savage Affiliates was created by Youtuber and Marketer Franklin Hatchett. It's my number one choice for an affiliate marketing course for beginners due to the diversity of training.
While other courses only focus on either paid or SEO traffic, Savage Affiliates teaches you how to get traffic through SEO, free traffic methods, and paid traffic methods. In other words, there are just a lot more options that you don't see with other courses.
If you have never built a website or blog before, you are going to learn how to do this from scratch with WordPress. You don't need to have any prior experience in building a website or with affiliate marketing. The training is done with an over-the-shoulder style video which is easy to understand.
There are 9 modules laid out in a way where you learn from the basics all the way to advanced affiliate marketing strategies. It's one of the best affiliate marketing courses out there because it's suitable for beginners but covers many advanced strategies to grow your affiliate marketing business.
Savage Affiliates Pricing
The standard version ($197)
The Super version ($297)
What's in the Course?
Savage Affiliates has two options to choose from.
The standard version includes niche research, website creation training, email marketing, funnel training, SEO, paid, and free traffic training. It also includes a module on how to succeed with platforms such as Clickbank and Amazon affiliate marketing.
The "Super" version comes with everything in the standard package with a few extras. These are the Clickfunnels Affiliate Academy where you are shown how to make high and recurring commissions with Clickfunnels, a done-for-you affiliate marketing funnel that Franklin has used himself that made him over 6-figures. You also get a lot of pre-made funnels that you can use for your promotions.
There are two "blueprints" that show you how to make money online with Launch Jacking (where you promote future-dated products) and a web hosting module showing you how to make commissions with web hosting packages.
Most people will get by with the standard option. However, the Super version provides you with a lot more opportunities to help you maximize your success. They are very unique to Savage Affiliates and you won't find these in other courses because Franklin has used these strategies himself successfully.
I have more on this on my individual Savage Affiliates review that you can check out.
Savage Affilates Pros
Affordable
Up-to-date training & lifetime updates included
Ideal for beginners or intermediates
30 day money back guarantee
Tons of training – more than 220 videos
Great training for making niche sites
Savage Affiliates Cons
Straight video, no supplementary text
Some of the SEO strategies taught aren't suitable for beginners
It's no surprise why I've rated Savage Affiliates as my #1 affiliate marketing training. Most people are just starting out and when they are looking for affiliate marketing courses to take they need something that will give them the best chance for success.
The final word. Savage Affiliates checks off all the boxes. It has a reputable coach, proven strategies that work, are easy to understand, and employs multiple traffic strategies.
Best affiliate marketing course for pure focus on SEO traffic. $599 or 10 monthly payments of $99.
The Authority Site System was created by Mark Webster and Gael Breton from Authority Hacker.
The course was developed to help you build an authority site in a niche of your choosing. The focus is to rank for terms organically in the search engines and to establish you as an authority in your niche.
You are taught how to find keywords, choose a niche, what niches to avoid, how to build backlinks, and how to structure your content.
The training is extensive with 15 modules in total. Training is done through video with supplementary text that is very comprehensive compared to other courses. It's great for beginners and even those that have never built a website before. All training is provided.
What's unique about this course is you can follow along with their case study site that they build-out throughout the course. Very helpful!
The Authority Site System Pros
Updated often (now in version 3.0)
Ideal for beginners or intermediates
Money back guarantee
Many success stories from students
Helpful text is accompanied with each video lesson
The Authority Site System Cons
Course taught using the page builder Elementor. For better page speed I would suggest using the Wordpress block editor.
Authority Site System Pricing
The regular price of TASS is $997 as advertised. However, my readers can get a discount for $398 here. (clear your cache & cookies first).
What I would suggest is to watch this free training first or head on over to my Authority Site System review page for more on this affiliate marketing course.
The Authority Site System is double the price of Savage Affiliates, but it does go more in-depth with keyword research and backlinking. It's a great option if you're looking to build affiliate websites that bring in passive income via organic traffic on Google.
Comparable course to TASS, focusing on organic traffic from Google. $797.
The Affiliate Lab was created by Matt Diggity, a very well-known and respected engineer-turned-marketer.
The course is loaded with training. Over 175 videos and 30 modules in the main training so you're going to be very well prepared to launch an affiliate marketing website.
You won't learn about paid ads, social media, or funnels. The focus is on building an "authority website" in a given niche. There are very extensive on-page and off-page SEO training modules which is the focus of this course.
A few extras are included in this course that you don't see in others such as using citations as links for an affiliate site, how to rank in the snippets, how to flip your website and make 30X return, etc.
It competes directly with the Authority Site System and to be honest it's hard to pick a winner between these two. I suggest checking out my full Affiliate Lab review if you'd like to get more details.
Affiliate Lab Pros
Includes other modules such as website flipping, Beginners Lab & Outreach (covers all bases)
The most extensive on-page SEO course I have seen
Frequently updated
Updates are free – never pay again
Many student success stories
Affiliate Lab Cons
A little on the pricier side
No refunds
Affiliate Lab Pricing
The regular price of the Affiliate Lab is $997 but you can get $200 off here.
Be aware that there are no refunds with this course. However, there is no reason to refund because the course material is excellent and does not fall short of my high expectations.
"Bonus" Modules
With your subscription, you also get access to other modules or "bundles". These are separate courses on their own but can also be looked at as additional modules. They are very different from the core training and basically just compliments it. Here's what you get:
Website Flipping Masterclass: Learn how to sell your site for huge profits
Beginners Lab: Step by step instruction for those new to wordpress
Checklists & SOP's: A downloadable file for onsite & offsite SEO
Learn about Google penalties and how to avoid them
Outreach Masterclass: learn how to prospect for backlinks like a boss
Affiliate Email Marketing Masterclass: Learn email marketing from a pro
Affiliate Portfolio Playbook: Learn how to scale your business through outsourcing
Optimize your Life: The newest addition to the course. Daily routines to help you become and stay successful
Final Verdict: The Affiliate Lab is an excellent course because of the up-to-date training, the extensive SEO section, easy-to-understand instruction, and many positive student testimonials. It will fully prepare you to build affiliate websites and help you choose the niche best for you.
I like the fact that updates are frequent and you will never pay extra. It's a hard decision between this course and TASS if you are focusing purely on SEO. The Affiliate Lab is a touch heavier on SEO than TASS is, so that may or not be the differentiator for you.
A course by Adam Enfroy. It's expensive but the results speak for themselves. $2997
Blog Growth Engine is a relatively new affiliate marketing program created by Adam Enfroy. If you haven't heard of him, that's ok because he's not very well known.
He's known to a lot of marketers though for his meteoric success of his website adamenfroy.com. I found this guy when I was doing my own research and saw him pop up on page 1 for a few hard-to-rank-for terms.
I popped his website in ahrefs and was blown away by the traffic he was getting. I thought for sure his website was very established, probably 10 years old or so. After I checked his URL in whois.com, I was floored that it was started at the end of 2018.
How did he achieve such incredible success in such a short period of time?
This is what he teaches in his course – Blog Growth Engine, where his website pulls in $100.000 a month. You read that correctly – One Hundred THOUSAND dollars a month.
This course differs from other courses out there because it's essentially a blueprint of what he does step by step to achieve that kind of success. His course teaches you how to start a blog in a niche that you can relate to. He also tells you to start it using the "brand of you" – in other words, you would use your name as your domain just like he uses. Keep in mind, this is an option. You could just pick a name that represents the niche you want to get into.
The course is taught by him and his "right-hand man" Colin Shipp. I've never heard of him before but Colin seems to know what he's talking about.
Blog Growth Engine Pros
You are taught exactly what Adam does to make 100K a month
Training suitable for beginners or those that have an existing blog
Content is frequently updated
Support with Facebook group included
Blog Growth Engine Cons
Expensive!
Not enough "over-the-shoulder" training. A lot of theory.
To add to this, I would say that if you have never used WordPress before, you won't get taught how to use it. It's expected that you should know how to build a site with WordPress already.
Also, you might take longer to rank with his methods because it is going to take Google a while to understand what your website is all about when you just use your name. However, this is just a guideline, you don't have to.
Blog Growth Engine Pricing
You already saw the price above – $2997. That's a hell of a lotta money! However, I saw it recently for $1497. So I don't know what's up with that. If I was you, I would bookmark this page and check back later to see if the price changes.
Although Adam Enfroy is new the the "online course scene". his success didn't happen by accident. Before his blog hit success he got experience working as the head of digital marketing for BigCommerce managing a $10M budget.
He quit his job shortly after his website starting making 35K a month.
Shortly after my friends, is how Blog Growth Engine was born. Yes, the course is pricey, but I like the fact that a very successful blog is the case study. So if you're looking to make passive income and build a successful affiliate website, you'll want to take a close look at this one.
A course by Igor Kheifets. No blog or SEO required. This course is a departure from the norm. $197.
The 301K Challenge is an affiliate marketing course where you don't need a website, you don't need to worry about SEO or ranking in Google and you don't have to spend money on Facebook or Google ads.
This course teaches you how to be an affiliate marketer through email marketing. Although you will be building landing pages (Igor uses Leadpages) you won't ever have to build a website.
This is what is Taught in the 301K Challenge
Choose an offer in a niche you like
Create a landing page
Create an email sequence
Buy a solo ad
Repeat process over & over for other offers
If email marketing appeals to you, then this is probably the best affiliate marketing course for that. I have bought others, including Anik Singal's Inbox Blueprint and this one is hand's down much better.
301K Challenge Pros
No technical knowledge needed
No need to build a website
Money back guarantee
Possible to get commissions in the same day you lauch your campaign
Taught by Igor Kheifets, a well known "super affiliate" in the community
301K Challenge Cons
Limited to email marketing only
301K Challenge Pricing
The 301K Challenge is reasonably priced at just $197 which is a one-time payment. You even get a 60-day money-back guarantee.
So, if the above courses aren't what you are looking for because you really want to make money with affiliate marketing but don't want to build a website, then perhaps the 301K Challenge is for you.
If this course interests you and you'd like more details, you're in luck! I also bought this course and did a separate review on it. So go ahead and check out my 301K Challenge review.
A course by Robby Blanchard. Good course for those that don't want to build a website and use Facebook Ads. $997
Commission Hero was created by Robby Blanchard, a top Clickbank affiliate. It claims to teach you how to make $1000 a day using Facebook ads with Clickfunnels.
If you don't want to build a website and wait for it to rank in Google – this course is for you. If you want to just run paid ads for traffic – that's all this course teaches and it teaches it well.
You should really be in a position to not only afford the cost of the course but to also have a budget for paid ads. Even if you were to make $1000 a day, your advertising expense would likely be a few hundred dollars a day.
With most affiliate programs you get paid usually a month after the sale, so you won't be able to use your profits to fund your business for a while. So keep this in mind.
What it Teaches
Commission Hero teaches you how to choose the right offers, how to set up landing pages, (using Clickfunnels) how to set up the Facebook pixel, ads, manager, etc. You will also learn how to track your ads and how to scale.
While a lot of emphasis is on Facebook ads, there is also a section on Native ads and Youtube Ads.
Commission Hero Pricing
Commission Hero costs $997. You can have the option to break it up with 2 payments of $597 each 30 days apart but why pay an extra $197?
Refunds. You can get a refund within 14 days but there is a catch. If you access ANY of the training, no refunds for you.
Commission Hero Pros
No need to build a website
Don't have to worry about SEO
Taught by Robby Blanchard, a top Clickbank affiliate
Commission Hero Cons
You'll need a Clickfunnels Account which will set you back $97 a month for the starter pack.
Clickbank is the only platform used to promote products
Commission Hero can be a great option for those that don't have writing chops and don't want to make affiliate commissions through a blog but through social media marketing instead. Coming from an instructor that was the top Clickbank affiliate, it's got a good reputation.
Definitely recommended if you want to go the paid advertising route. Check out my Commission Hero review for more information on Robby's course.
A course by John Crestani. Good course for those that don't want to build a website and use Facebook Ads. $997
If you are not interested in creating a blog then the Super Affiliate System Pro by John Crestani is another good option for you.
This course focuses on building landing pages using builders like Clickfunnels or Leadpages. The traffic is brought in by using paid advertising on Google and Facebook.
You'll also learn about other paid traffic strategies such as "native ads" which is either text or even a video that matches the content that surrounds it.
You can learn more about his and more about the course in my Super Affiliate System Review.
Super Affiliate System Pros
Great for any niche
No need to do SEO, no waiting for traffic
Teaches paid ads so potential to make money fast
Super Affiliate System Cons
On the expensive side
Students are encouraged to promote the course as affiliates a little too much!
Super Affiliate System Pro Pricing
The Super Affiliate System costs $997 which is a one-time payment. you are covered by a 60-day refund guarantee.
The Super Affiliate System Pro is similar to Commission Hero and directly competes with it. If paid advertising is more your speed then either one of these courses will suit you well. If you can't decide, do check out my individual reviews on them.
Competes with Savage Affiliates, TASS & Affiliate Lab. Teaches how to build & rank sites in Google. $797.
Created by Andrew Hansen and Sara Young, brings you the Digital Worth Academy. Between these two, they have 20 years of combined experience building affiliate sites.
This course definitely competes with The Authority Site System and Affiliate Lab because the focus is entirely on building affiliate sites and ranking them in Google
For more information on the course, you can read my Digital Worth Academy Pro review.
Pros
Intructors have 20 combined years of experience building affiliate sites
Many positive reviews
Comprehensive training with up-to-date techniques
Cons
SEO strategies not as advanced as TASS or Affiliate Lab
Digital Worth Pricing
The Digital Worth Academy costs $797. There are no monthly options. You are covered with a 30-day money-back guarantee.
Digital Worth Academy is a good option but I still rank Savage Affiliates, The Authority Site System and Affiliate Lab higher for building an Authority site.
Good course for building a blog in any niche. $499*
Project 24 is designed to teach you how to build a successful niche site (and a Youtube Channel) in 24 months. Project 24 is a great course and it would be closer to the top of my list if they taught off-page SEO.
They tell you that as long as you have good, solid content, your site will start to naturally rank in Google. This is simply not true. There are many ranking factors and while good content is one of them, backlinks play a very significant role.
I think that if you know SEO already and know how to rank sites, but are terrible on the content end, then this course would be a good fit.
Project 24 does an excellent job of teaching you how to build a niche site from scratch, heck they even provide a really good theme if you buy their course.
Pros
Reputable – instructors Ricky Kesler & Jim Harmer have proven results
No hype or shady tactics taught
Course is regularly updated
Cons
You guessed it. ZERO SEO training. Zilch.. nada.
Project 24 Pricing
Project 24 Costs $449 for the first year then $249 every year after.
As previously mentioned, Project 24 is a great course and come from two very successful bloggers. You may have even seen their Youtube Channel.
They rank at the bottom of this list because although the content and teaching is great, they don't teach backlinking. It's the only thing missing really. So if that's ok with you, I also recommend this course.
---
What is Affiliate Marketing?
Affiliate marketing is a way to make money online by promoting other people's products. You collect a commission when someone buys through your unique link.
Below are the steps involved:
Select a niche that you are either familiar with or like

Find a product in that niche with an affiliate program & get your affiliate link

Promote your affiliate link on your blog, Facebook, Google, email, etc.

If someone clicks on your unique link and makes a purchase, you get a commission

Wait for your check, paypal or direct deposit!
Best Affiliate Marketing Course Conclusion
There you have it, my top 9 best Affiliate Marketing Courses for this year.
When you are making a course choice, you really need to decide on a few factors. The first one (and most important) is do you want to do affiliate marketing through a blog with niche sites or would you rather do it with landing pages and paid ads or through email marketing?
Some people aren't up to writing so perhaps a course with just landing pages and paid ads would be a better online business choice.
A blog is my personal favorite affiliate business as it's an asset that you build up over time which you later can sell.
You should also think about your initial budget. There will be expenses after the course purchase so keep this in mind.
If you want the best affiliate marketing training that is inexpensive and covers building a blog, landing pages, paid ads, getting free traffic and SEO, my recommendation would be Savage Affiliates because it covers everything.
But do pick the course that is suitable for you from this list. As you know, not all affiliate marketing courses are created equally.
For more information on affiliate marketing check out my guide on affiliate marketing for beginners.
Affiliate Marketing FAQ's
Where can I learn affiliate marketing?
There are plenty of resources online on how to learn affiliate marketing. Some are free, some are great, while others are not so good. In order to get the best training possible, it is best that you choose one of my suggested courses and one that has been reviewed properly by a 3rd party. I buy all the affiliate marketing courses I review.
How do I start an affiliate marketing business?
To start, you need to decide whether you are going to create a blog, Youtube channel, or do paid ads with landing pages. Once you know what platform works for you, you need to do research on how to find the best products to promote. You then simply apply to be an affiliate for these products(s), get your affiliate link, and include it in your promotions.
Why do some affiliate marketers fail?
Some fail for a variety of reasons.
They give up too easy
They were sold a terrible product
They expect success within a week
They aren't willing to put in the work
They are afraid to fail. The most successful affiliate marketers failed the most!
Can you get rich from affiliate marketing?
Short answer – yes. Many affiliate marketers make 5 or 6 figures a month. In some cases, even more. This is a very profitable business model and if done right, you can make a lot of money in this business.
Is affiliate marketing easy?
The answer to this question is yes and no. With the right affiliate marketing training programs, people will have the greatest chance for success.
However, missing just one of those elements could make things very difficult and not see any success.
Which affiliate network is best?
There really is no best network because the best would depend on the type of product(s) you wish to promote. For example, if you want to promote courses and software, JVZOO might be a good option or even Clickbank. If you want to promote health products, then MarketHealth would be a good choice. So you see, it all depends on what you want to promote.
How long does it take to be a successful affiliate marketer?
This is a loaded question because again – it depends on you. If you dive in with little or no affiliate marketing training at all, chances are it's going to take you much longer than if you had the right training. Some people see success within their first week, others could take months before making any passive income.
How Much Can Affiliate Marketers Make?
This varies greatly. Some marketers make just a few dollars a month while others are making 5 or 6 figures. Pay attention to the ones that are making bank and learn from them.
How do beginners make money with affiliate marketing?
For beginners, it is best that you find something you like. It will be much easier to promote something you are interested in rather than something you are not. Once you bringing in an income, you can outsource the work to others for content that you are not familiar with.
How do I become successful at affiliate marketing?
Get the best training for your research! The wrong niche could end up costing you decide whether you want to create a blog, do email marketing, or paid advertising to landing pages. You need to like what you are doing! Never give up. Perseverance pays off..
How do I promote ClickBank products without a website?
This can easily be done by starting a Youtube channel. Many successful marketers only use this platform to promote affiliate products from Clickbank. If you're not shy to get on camera, you will have the most success this way. You can also do video slideshows if you're not comfortable being on camera, but it won't be as effective.
How fast can you make money in affiliate marketing?
This is one of the top questions asked. The amount of time to start making money with affiliate marketing varies greatly. Some people see success within a few weeks, others can take months. I wrote an article on this subject here.
Is affiliate marketing still profitable 2022?
Yes, the affiliate marketing industry is still profitable in 2022. I see no end in sight for making money with this type of online marketing because vendors know that they need affiliates to survive. To compare, it would be like a typical company with a product to sell that doesn't have a sales team. How could they possibly survive? Affiliate marketing is alive and well and will stay that way.
If you're looking to get started right away, choose from any of my recommended courses that I have included on this page fully vetted by me.
---
Share this with a friend that needs it!

Latest posts by Drew Mann
(see all)